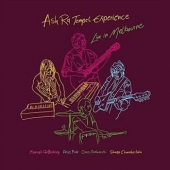 Ash Ra Tempel Experience
Live In Melbourne (Mg Art)
Post Rock / Avant Rock
Availability: In Stock.
HQ Gatefold Aleeve with extensive Liner Notes by Mick Glossop & Manuel Göttsching, Printed Innersleeves with Rehearsal and Live Photos.
2015 Live Recording from "Supersense" Festival Melbourne, previously unreleased, featuring a Supergroup around Manuel Göttsching, Ariel Pink, Oren Ambarchi, Shags Chamberlain playing material from the Classic ASH RA TEMPEL Releases "Schwingungen" and "Seven Up" !