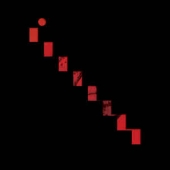 Glass Rebel
Cancer / Flaw In Love (Amour / Undo)
Electro / Electro-Rock
Availability: Usually dispatched within 5-10 working days.
A. New Wave / Disco ''Cancer '' is the first single of Glass Rebel's latest release. It is inspired by a series of unexpected, unpleasant personal experiences. From its first hearing it grows slowly inside you and by the time you realize it, it is already too late. It was recorded in the brand-new Athenian studio The Cave in collaboration with producer Ekelon and featuring guitarist Lampis Kountourogiannis, unique in offering space-synth riffs.

B. ''Flaw In Love'' is a lucid Synth Pop Rock tune and it's the second single of the 7'' vinyl featuring the distinctively crystalline voice of singer-songwriter Etten.