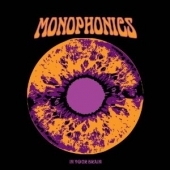 Monophonics
In Your Brain
Label: Ubiquity
Genre: Freestyle / Nu Jazz / Funk / Afro
Availability
LP x2 +MP3 COUPON €29.99

In Stock
2017 repress orange / purple vinyls.
Over the past seven years, the Monophonics have staked their claim as one of California's premier bands. Raised amid the Bay Area's rich musical culture, the Monophonics have proudly carried on the tradition of music native to their hometown which flourished during the birth of psychedelia.
Monophonics were formed in '05; originally a instrumental ensemble comprised of guitarist Ian McDonald, bassist Myles O'Mahony, saxophonist Alex Baky, trumpeter Ryan Scott, and drummer Austin Bohlman, the band has recently added the dynamic soul vocals of keyboardist Kelly Finnigan. The result is a psychedelic soul & heavy funk sound, which harks back to the stylings of the late '60s and early '70s, all while keeping its feet planted in the present.