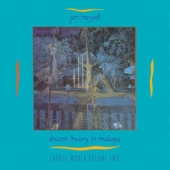 Hassell Jon
Dream Theory Of Malaya
Label: Tak:til
Genre: 80s Wave / Rock / Pop / Punk
Availability
LP + CD €22.99

Out of Stock
The first-ever reissue of Jon Hassell's "Fourth World" masterpiece - originally released in 1981. Collaborators include Brian Eno and Daniel Lanois (U2, Peter Gabriel) and Michael Brook (Nusrat Fateh Ali Khan). Beautifully re-mastered, with a bonus track ("Ordinary Mind") and liner notes written by Hassell himself.
In the late 1970's in New York, Hassell began to produce a series of astonishing albums where his trumpet explored both non-western modalities and dramatic sound processing (deftly rendered by nascent digital effects like the AMS harmonizer). Brian Eno, who was living New York at the time was thrilled by Hassell's debut album Vernal Equinox and sought out its creator. Eventually they began an in-depth (and at times contentious) collaboration that resulted in the classic album Fourth World Vol.1: Possible Musics (also reissued by Glitterbeat Records).
One reason for this continued fascination with Hassell's music, is that most of his output still feels as though it is unstamped by time, fashion or genre specificity. When listening to Dream Theory in Malaya: Fourth World Volume Two, one is deeply struck by how contemporary or even "futuristic" it still sounds. The stuttering glitches of the opening track "Chor Moiré" are cooly confrontational. The scratchy, layered drones of "Dream Theory" are both haunted and indeterminate. The mixing of acoustic sounds and electronics, technological motifs and field recordings has been revisited and reimagined many times in the 36 years since this album came out, but rarely with such unsparing intelligence and technicolor sensuality. This music still beguiles and still beckons with untapped possibilities and strategies.