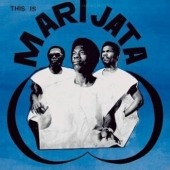 Marijata
This Is Marijata - Vinyl Reissue (Mr Bongo)
Freestyle / Nu Jazz / Funk / Afro
LP €23.99
Sorry, currently out of stock.
Marijata was a group made up of three members – Kofi 'Electric' Addison on drums, Bob Fischlan on organ and Nat Osmanu on guitar, hailing from Ghana. 'This Is Marijata' is the groups first LP; released originally on the Gapophone label – it is pure, rootsy, raw, driving African funk music of the highest order, now highly sought-after in both its original and previously reissued
forms.
Addison, Osmanu and Fischlan formed a band called the Sweet Beans with a young singer and guitarist, namely the legendary Pat Thomas. They released 'False Lover' in 1974 on Gapophone Records before recording 'This Is Marijata' and then 'Pat Thomas Introduces Marijata' shortly afterwards.