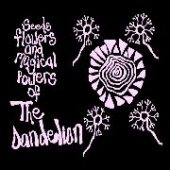 Dandelion
Seeds Flowers And Magical Powers Of The Dandelion
Label: Blackspin Records
Genre: Rock / Pop
"...After the Dolly Rocker Movement's closure, Daniel Poulter under the name of "The Dandelion" released in 2013 an album of songs which became "Strange case of The Dandelion". In 2015 and after twelve months in the making - at 3 different home studios on Sydney - the second full length album "Seeds, Flowers and Magical Powers of The Dandelion" comes to light. It was during the making of this record that Daniel handed over The Dandelion's leadership and songwriting responsibilities to Natalie de Silver who can be heard subtlety coming through the mix and the albums main themes.
In this album as well, an obvious love of flower pop garage psychedelia of the mid to late sixties is used as a starting point but without these influences affecting the unique mystic approach & characteristic soundscapes in which Dandelion has built upon with their debut. Moving forward "Seeds, Flowers and Magical Powers of The Dandelion" is a collection of musical spells projecting images of galactic space travel, pagan witchcraft, love, ethereal energies & a blend of east meets west rhythms & melodies". From start to finish occurs as the perfect companion to a late night psych-flower-pop party of an endless youth!..."
300 pink coloured vinyl copies.