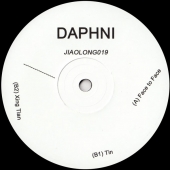 Daphni ( Caribou )
Face To Face
Label: Jiaolong
Genre: Electronica / Ambient / Experimental
The new 12" from Daphni - the first release in over 3 years - featuring tracks appearing on his upcoming Fabriclive mix.
Candeias, (engl: Candles) was initiated by the Argentinian multi-instrumentalist Guillermo Reuter due to an invitation by French producer Jaques Subileau to write an album.The Band's only long player Sambaiana was recorded in the Buenos Aires based studio 'Sound Center' in 1975. Members of the recording session included Guillermo Reuter, Uruguayan drummer and percussionist Carlos Carli, Brazilian bass player Darci Soave, flute player Rubén Izarrualde and Agustin Pereyra Lucena on guitar. Originally Sambaiana has been released in Spain and France but only in small numbers.Expect a Jazz Fusion masterpiece with a strong influence of Brazilian Jazz & Pop and some elements of Classical music and Latin rhythm. If UNESCO installs a world heritage list for Jazz long players Candeias' Sambaiana would be on it!
Having now Notes On A Journey, more than forty years after its initial release, introducing 'Candeias' to a whole new audience is also in the interest of its creator. For Guillermo Reuter, this album was and is a lifework, which has never lost momentum and significance. It is a record, which simply stands the test of time by bringing pure joy over its full, entertaining length, and is going under the skin at the same time. That's why for this re-issue the original Spanish pressing has been lovingly restored, preserving the sound quality, letting you listen to it the way it should be heard, in the here and now. With the stunning new quality 'Candeias' will find a much bigger following this time round.