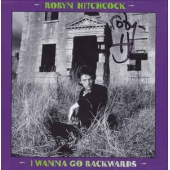 Hitchcock Robyn
I Wanna Go Backwards (Yep Roc)
80s Wave / Rock / Pop / Punk
Nice Price
CD x5 BOX €29.99
Sorry, currently out of stock.
Robyn Hitchcock has finally begun the daunting task of compiling his groundbreaking post-Soft Boys solo catalog with the I Wanna Go Backwards box set. The first of two upcoming collections, I Wanna Go Backwards includes three of his most classic albums.
Hitchcock's first solo album Black Snake Diamond Role is a private rock album featuring ex-Soft Boys, a Vibrator, a Fur and other friends. I Often Dream of Trains finds Robyn at his all-acoustic zenith with a seminal collection of kaleidoscopic, stripped down folk. Eye continues in the tradition of Trains draping Hitchcock's signature layered lyrical imagery over his most musically direct work to date. All the albums feature bonus tracks and enhanced liner notes: reminiscences (BSDR & WTMB), an excerpt from a novel in progress (Trains), and original poetry (Eye), plus previously unseen photos and Hitchcock cartoons. Additional bonus material includes While Thatcher Mauled Britain Part 1 & 2, a two-disc comprehensive look at a labyrinth of Robyn's largely unreleased solo b-sides, outtakes and home recordings. Black Snake Diamond Role and I Often Dream of Trains have been remastered for this collection.