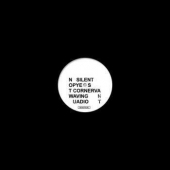 Pye Corner Audio / Silent Servant / Not Waving
Pye Corner Audio / Silent Servant / Not Waving
Label: Ecstatic Peace
Genre: Electro / Electro-Rock
Ecstatic reprise the line-up of Not Waving and Pye Corner Audio's Intercepts [2014] collaboration, along with the crucial addition of Silent Servant, for a faultless dancefloor session prizing one peach per artist on a lurid neon yellow plate. DJs and dancers can trust they are in very safe hands with exclusive, deadly material supplied by all three operators, which also doubles up as a showcase for their incoming joint US tour dates.
Catching each producer at the apex of their respective games, they demonstrate the difference between original forms and their idiosyncratic, modern antecedents in alternately optimised and augmented distillations of EBM, acid, and techno, using finely honed instincts to parse the best bits from each style and leave the rest to rot.
Not Waving sets the example with a twanging and typically irregular disarrangement of EBM robo-funk, railing a lean and potent stripe of clambering machine pulses and barely-harnessed arpeggios with fragments of anti-racism activist Jane Elliot that lend it a recontextualised, determined impetus.
Martin Jenkins aka The Head Technician aka Pye Corner Audio follows with a slowly tempered, supple piece of analogue magick, coaxing out a sublime twine of helical basslines and a soaring top line of the rarest kind, one completely destined to trigger stunned and loved-up reactions in the right situations.
And the best is yet to come with Silent Servant's impeccable B-side, tallying his first release of original material in 2017 with a sleek signature turn of fine-tuned 5/4 techno powered by nagging EBM bass and spaced out within a morphing sound sphere, with intercepted narrator who becomes fully revealed into the dramatic climax