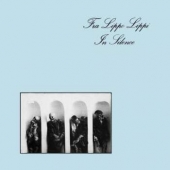 Fra Lippo Lippi
In Silence
Label: Onderstroom
Genre: 80s Wave / Rock / Pop / Punk
Reissue of "In Silence" the gloomy 1981 debut lp from this Norwegian post-punk band. Released in an edition of 500.

Fra Lippo Lippi was a gothic post-punk band founded in Nesodden, Norway in 1978. Band members were Rune Kristoffersen (guitar, bass, keyboards, piano) Per Oystein Sorensen (vocals, synthesizer, keyboards), and Morten Sjoberg (drums, keyboards). Their sound was heavily influenced by bands such as Joy Division and The Cure.

In 1981 the band recorded and released "In Silence", a hard to grasp, dark album with ominous bass lines, death-march percussion, pensive keyboards, and sinister, indecipherable vocals. The band had installed a semi-professional 4-track recording studio in a small basement. The recording of the album started in June 1981 and was not completed until 4 months later. Rune Kristoffersen: "It took a long time. Our compositions were based on the drums and the bass, which we coloured with guitars, voices and keyboards. The sound was completely natural, both concrete and abstract."

On the record it was difficult to hear the vocals, as it was mixed far behind the instruments. So it was made impossible to understand the lyrics. Not unlike producer Martin Hannett did for Factory Records in the UK. Rune Kristoffersen: "It is made quite conscious: put the voices far back to create a mood music. I also look at 'In Silence' in a certain connection to what Brian Eno did with his ambient music."

In 1998, Rune started releasing experimental music on his very own label called Rune Grammofon, where he has highlighted many experimental Norwegian acts such as Arne Nordheim, Supersilent, and Motorpsycho.