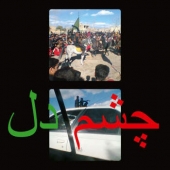 Hannaneh Morteza
Tchashm-e-del
Label: Collapsing Market
Genre: World Music
The Paris-based Collapsing Market label unveil a reeel gem of found art with Tschashm-e-Del: a radio play recorded in Iran sometime during the '60s by Morteza Hannaneh, co-founder of the Tehran Symphony Orchestra with Parvis Mahmoud and the grandfather of Collapsing Market co- owner Cyrus Goberville, who discovered the recording on a tape at his home.
Without definitive records to go from, Tschashm-e-Del was presumably recorded in the '60s (certainly pre-revolution) and quite possibly broadcast on Radio Tehran. Now restored from the original reels, it reveals a gorgeous and important suite of music set to a Ghazal - an ancient Arabic ode, or poetic expression of the pain and beauty of love, loss or separation - written by Hatef Esfehani, who was a famous Iranian poet of the 18th century.
The ghazal deals with the founding principles of Sufism and monotheism through a love story between Hatef and a Christian girl, with Morteza Hannaneh's musical arrangement matching the specific rhyming structure of its ancient classical form, itself rooted in tradition stretching back to at least the 10th century, whilst also incorporating string elements of western orchestration relating to Hannaneh's background in composing for cinema.
It's the kind of music you might expect to turn up on a Folkways or Dead-Cert release and is here presented with artwork made by Thomas Jeppe, a noted artist familiar with Persian culture, the sleeve image depicts the Ashura procession.