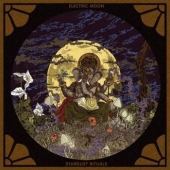 Electric Moon
Stardust Rituals
Label: Sulatron
Genre: Post Rock / Avant Rock
Availability
Other Formats
Finally, it's happening, and the long awaited 5th studio release of Electric Moon appears to see the light!
4 tracks, which pack a punch and which went a long way to become what they are now. The oldest tune "Stardust (The Picture)" was already recorded in 2014 and was released as instrumental version on 2 live albums so far. But it got refined with overdubs like vocals and stuff, like all the other tracks, too. This is one of the things which make the difference between live albums and studio albums, by the way; like also, that improvisation and songwriting get mixed-up!
Stardust Rituals is painting a journey through the inner cosmos and wants to deliver the insight, that no-one and nothing gets ever lost, because space is like a jar which keeps us all, in which form ever... We're all made of stardust so nothing can happen in the end...<br />Trippy like always, Electric Moon will carry you off on a trip to the deepest depths of the outermost innermost, cause in every one of us is a cosmos and we all are together on this common journey, in the same (space-)ship... Recorded, mixed and produced by Sula Bassana (Dave Schmidt) and mastered by Eroc!
The beautiful round Cover-Painting was painted by Eriko of Mont Doom Design in Italy and Lulu Artwork! just brought it to shape for the final design and layout.
Komet Lulu: Bass, Vocals, Effects Marcus Schnitzler: Drums Sula Bassana: Guitar, E-Sitar, Organ, Mellotron, E-Piano, Effects

Orange vinyl.