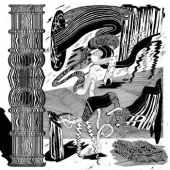 Yerba Mansa
Yerba Mansa
Label: Deep Distance
Genre: Post Rock / Avant Rock
The second of the New Year's killer brace of Deep Distance full lengths sees a vinyl outing at last for the incredible freeform guitar noise freakouts of Manchester's Yerba Mansa.

Previously confined to occasional, epic live shows; these three heavy guitar & percussion only (bar the whacked out vocals of Edwin in part) pieces perhaps represent something of a curveball for the label here. Hinting at nods to those revered early VU live boots, with a dose of early Amon Duul, even the mighty guitar heavy improv of early Television shows and more recently the Flower / Corsano duo.

This from fellow DD recording artiste Nick Mitchell:
YERBA MANSA
Edwin Stevens (Irma Vep, Sex Hands, Klaus Kinski etc) and Andrew Cheetham (ABC trio, Birchall/Cheetham duo etc) are two of Manchester's most prolific purveyors of raging, outer-limits rock-ism. Both members of free-rock army Desmadrados Soldados de Ventura as well as countless other projects, they take a similar blueprint for their head-to-head skyscraping duo, only with a singularity of heavy chord chug that aligns them with Gown or even Michael Flower & Chris Corsano."
A fabulous LP on a clear khaki vinyl pressing of 300 and featuring beautiful art from Dylan Hughes, and destined to sell out super quick….