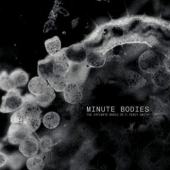 Tindersticks
Minute Bodies: The Intimate World Of F. Percy Smith
Label: City Slang
Genre: Soundtrack
Availability
LP 180gr +DVD +MP3 COUPON €31.99

Out of Stock
Limited to 3000 worldwide, 180g vinyl. No represses – once this initial stock is sold the label won't be repressing.
'Minute Bodies: The Intimate World of F. Percy Smith", directed by Stuart Staples of tindersticks, was first screened at the 60th BFI London Film Festival in October 2016. It is a meditative and immersive film tribute to the astonishing work and achievements of the early twentieth century naturalist, inventor and pioneering filmmaker F. Percy Smith.
'Minute bodies' is an interpretative edit that combines Smith's original footage with a new contemporary score by tindersticks, with Thomas Belhom and Christine Ott, to create a hypnotic, alien yet familiar dreamscape that connects us to the sense of wonder Smith must have felt as he peered through his own lenses to see these micro-worlds for the first time.
The forming of the edit and its musical score evolved over a three year period. The music was created from a loose collective of invited musicians. With tindersticks at its heart it also greatly benefits from the involvement of Thomas Belhom (percussion) and Christine Ott (Ondes Martenot and piano). There are also cameos from David Coulter (Musical saw and Nose flute) and Julian Siegel (Saxophone). It was recorded and mixed at the bands studio in France.
Minute Bodies: The intimate world of F. Percy Smith
Directed by Stuart A. Staples
Photography and animated sequences by F. Percy Smith
Editing by David Reeve and Stuart A. Staples
Original editing by Mary Field
Produced by Stuart A. Staples and David Reeve for Lucky Dog inc. and Studio Moe
Musical score by tindersticks with Thomas Belhom and Christine Ott
"My main aim for Minute Bodies – The intimate world of F. Percy Smith is that it invites Smiths work to breath and exist in the present. Smith was a major, unique figure. His work transcends the constraints of its time, and now it teaches us about patience, commitment, ingenuity and determination." Stuart A. Staples, director.
"The world now sacrifices everything to speed; quiet seems to be regarded as a detestable condition to be ex¬purgated by any means which applied science can devise; and this state of affairs does not encourage the production of the type of individual who can satisfy himself in an investigation of the hidden beauties of Nature." F. Percy Smith