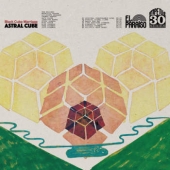 Black Cube Marriage
Astral Cube
Label: El Paraiso
Genre: Post Rock / Avant Rock
Availability
LP + MP3 COUPON €19.99

In Stock
Black Cube Marriage is a unique ensemble consisting of legendary Chicago-based cornetist, sound manipulator and improviser Rob Mazurek (Tortoise, Exploding Star Orchestra, Isotope 217 and others), members of his Brazilian connection Sao Paolo Underground, Austin-based freeform unit Marriage and special guests Jonathan Horne (guitar, saxophone) and Steve Jansen (tapes, guitar). Formed in the wake of a couple of Austin, Texas shows in late 2015, this 11-person strong ensemble creates waves of sound that can best be described as cathartic.
Astral Cube draws from multiple styles and traditions and the result is a sonic eruption where past, present, north, east, south, organic and electronic collides and is poured into the unknown. Traces of cosmic jazz – think Don Cherry, Pharoah Sanders, Sun Ra – appearalongside abstract electronics and heavily manipulated instruments – not unlike Autechre or Matmos. Occasionally the sounds this group is creating conjures mental imagery of flourishing nature, colourful wildlife, flowing mountain streams and ancient rituals – other times the glistening sonic textures evokes images of buzzing urban power lines or technology gone haywire. It's ceremonial, yet deeply futuristic music. Powerful, unknown, surreal. A sonic outpouring of light an energy. This is post-everything psychedelia at the outer limits of musical possibilities.
Limited edition, 500 copies.