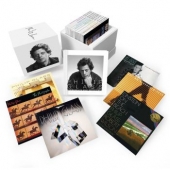 Glass Philip
The Complete Sony Recordings
Label: Sony Classical
Genre: Jazz / Avant Garde
Availability
CD x24 BOX €69.99

Out of Stock
This Ltd, deluxe x24 CD box set see's the first ever release of the complete Philip Glass recordings on Sony Classical.
The box set includes:
3 albums produced by Philip Glass himself for Columbia Masterworks.
The first release of Glassworks – specially mixed for your personal cassette player on CD.
A 44 minute interview with Philip Glass on Glassworks.
The Original Motion Picture Soundtrack to Nagoygatsi featuring Yo-Yo Ma.
A booklet with the original linear notes, most penned by Glass himself plus full discographical notes & complete libretti.
Facsimilie LP sleeves & notes.