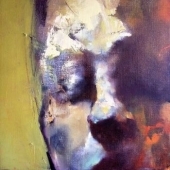 Hill Thomas William
Asylum For Eve
Label: Village Green
Genre: 60s / 70s Rock / Pop / Progressive / Kraut
Availability
CD Digi / Cardboard €15.99

Out of Stock
From the combined backgrounds of film score composition and field recordings comes 'Asylum For Eve', Thomas William Hill's rich and expressive new album, and the first written under his own name.
While not a concept album in the strict sense of the term, the album's title refers to a hypothetical imagining of 'Mitochondrial Eve', the theorised matrilineal ancestor of all living humans, reincarnated in today's world of restricted movement. Threads inspired by this juxtaposition of division and connectedness run through the album, which drifts from plaintive piano-led passages to brisk chamber music and back again, tied together by the textured layering of found sounds and instruments that distinguishes Thomas's music.
After tracking down an old Bechstein Model 9 upright piano for 'Asylum For Eve', Thomas set about modifying and preparing it with cardigans, screws and nails in order to provide the textures and timbres which characterise the album's dense, affecting sound. Techniques employed for the album include the intricate layering of bowed guitars and ukuleles, and fingerpicked violins, banjo and charango. It's processes such as these, coupled with Hill's high quality composition and musicianship, that see the album at once expansive and intimate. Naturally, much of 'Asylum for Eve' calls to mind the universe of soundtrack composition, particularly the delicate scores of Gustavo Santaolalla and Thomas Newman. But while the fluttering, layered guitars of 'Porpita Porpita' and the title track might bear a passing resemblance to the former composer's work, Thomas locates these influences in the broader contexts of both his own musical trajectory and that of the wider genre of neo-classical music.
Tracks such as 'Pinhole Opening', 'Laniakea', 'Cirrostratus' and 'Peak District' all feature the soft, mournful dustings of piano that have come to define a sound spearheaded by artists such as Nils Frahm and Olafur Arnalds. With the addition of mallet instruments, toyboxes and climactic string arrangements, however, Thomas succeeds in producing a textured sound, rich in emotional depth, that is uniquely his own. Often, the music is powerful, evocative and cinematic, reaching high, cathartic climaxes while also providing moments of extreme tenderness, but this experimentation with layering also works beautifully when crafting lighter moods; 'Venetian Zoetrope' makes use of a Reichian piano pulse around which various instruments dance, while on 'We May Never Part', glockenspiel, pizzicato strings and bowed cello are married together, recalling the whimsical avant-folk of the Penguin Cafe Orchestra.

'Asylum For Eve' is constituted of both new material and reworked soundtracks, and Thomas has triumphed in transposing music made for the screen into album format, imbuing each individual track with a high level of cinematic quality.