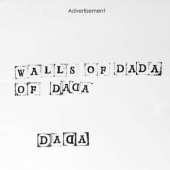 Walls Of Dada
Walls Of Dada
Label: Saturday Night Sunday Morning
Genre: Electro / Electro-Rock
The album is limited to 300 and comes on pink vinyl and comes with a DL. Walls Of Dada is Chris Olley from SIX BY SEVEN and Peter G Holmström from The Dandy Warhols. It's a Transatlantic coldwave pop album which has all the analogue warmth and cold war atmosphere of a record coming out in 1982.
Chris and Pete first met in 1998 when The Dandy Warhols asked Six By Seven to support them on their first UK tour. They have been in contact with each other and remained friends ever since and over the years had always talked about making some music together. About a year ago, after hanging out at a Dandy's gig in Nottingham, they made a plan to get something started. For Chris, and his aversion to making music using computers, the idea from the outset was to create something by simple means so as not to get bogged down by technology and end up sending myriad files and stems across the internet from one computer to the other. In his studio in Nottingham Chris put a drum machine through an amp and synced and sequenced an analogue synth to it and recorded the sounds onto an 8 track recorder. After adding vocals a Stereo Mix was bounced down and sent over to Portland, Oregon. There, in his home studio, Pete added guitars, bass, synths (and a banjo) to the mix and topped and tailed the songs and sent his own stereo mix back. That was it. No more overdubs were added and there was no heavy mastering or compression or loudness wars were entered into.
A lot of vintage guitars and pedals and synths were used in the process and everything was recorded through amps. This was a throwback to the days of the early eighties when bands started to record on the first commercially available four track recorders and portastudios made by Fostex and Tascam. Because there were only four tracks, a lot of bouncing had to be done and this resulted in hard decision making at an early stage of the recording process and a 'no-going-back' recording, which meant you were committed to something you couldn't change. This is the process which Chris and Pete wanted to tap into to make Walls Of Dada have that unusual edge that bands these days just don't have anymore because the digital world now provides unlimited space and tracks. After working on roughly 20 songs across the year the result is an album that sounds like it could have been made in a cold Sheffield or Manchester basement or bedroom back in 1982.