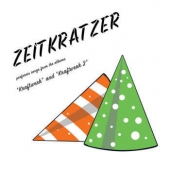 Zeitkratzer
Zeitkratzer Performs Songs From Kraftwerk 1 And 2 (Karlrecords)
Jazz / Avant Garde
Availability: In Stock.
Zeitkratzer celebrate their 20th with necessary re-interpretations of early compositions by electronic pioneers Kraftwerk. Founded in 1997 by Reinhold Friedl, Zeitkratzer have since been creating an impressive catalog of recordings that embraces 20th century avant-garde composers (Cage, Stockhausen, Lucier) as well as electronic artists (Carsten Nicolai, Terre Thaemlitz) or underground experimentalists like Throbbing Gristle or Column One. In their 20th anniversary year, the critically acclaimed ensemble will release a series of diverse albums that will explore new grounds in the typical, adventurous Zeitkratzer way - the first of these albums is dedicated to Kraftwerk and their early, kraut-esque albums Kraftwerk (1970) and Kraftwerk 2 (1972). As Kraftwerk never re-released these albums, Zeitkratzer gave its best to cover the first tranche of the songs. Recorded in Marseille/France in May 2016, the six tracks reveal a bucolic and even psychedelic aspect of the ensemble that's mostly known (or feared) for its interpretative and aesthetic acerbity. And yet there's no doubt that Songs From The Albums "Kraftwerk" And "Kraftwerk 2" is a true Zeitkratzer recording in the best and fullest meaning.
Zeitkratzer directed by Reinhold Friedl are: Frank Gratkowski - flute, clarinets; Elena Kakaliagou - french horn; Hilary Jeffery - trombone; Reinhold Friedl - harmonium, piano; Didier Ascour - guitar; Maurice de Martin - drums; Lisa Marie Landgraf - violin; Burkhard Schlothauer - violin; Elisabeth Coudoux - violoncello; Ulrich Phillipp - double bass.