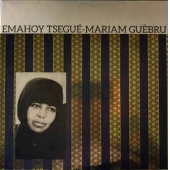 Gebru Tsege Mariam
Emahoy Tsegue - Mariam Guebru
Label: Mississippi
Genre: Jazz / Avant Garde
At last! The second LP in our ongoing series of releases from Mariam - Tsege Gebru! More 1960's recordings of her truly unique solo piano performances. Mariam - Tsege Gebru is a true original - her playing is somewhere between Erik Satie, Debussy, liturgical music of the Coptic Ethiopian Church, and Ethiopian traditional music. It is some of the most moving piano music you will ever hear! All original compositions available for the first time on vinyl beyond the original early 1960's editions, which are completely impossible to find.
Old school "tip on" cover with gold foil printing.
A must have master piece for anyone who needs some spiritual comfort.
Limited to 1,800 copies.