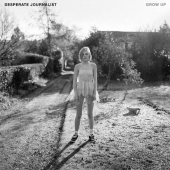 Desperate Journalist
Grow Up (Fierce Panda)
Rock / Pop
CD Digi / Cardboard €16.99
Sorry, currently out of stock.
The 'Grow Up' album sees Desperate Journalist building on the sublimely tetchy moodswings of their self-titled debut and the intense interim 'Good Luck' EP by adding a fresh sonic sheen to their old school indie stroppings. This means that they sound meatier and bolder yet are still infused with a keen pop sensibility which ensures that 'Grow Up' contains at least five possible singles
of which 'Hollow' is the first.