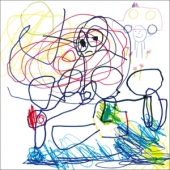 Superpitcher
Golden Ravedays 2
Label: Hippie Dance
Genre: Electronica / Ambient / Experimental
Availability
LP + MP3 COUPON €17.99

In Stock
The second chapter of The Golden Ravedays saga, introduces two further tracks of the haunting sound adventure.

Side A introduces a very surprising spectacle of sound entitled What do you miss?

This track is unlike anything Superpitcher has released in the past.

What do you miss?

is diving into a river, serenely floating past visions that bring calm, just to be overwhelmed by jazzy white waters of saxophone and primal animal poetry all the way from forests long forgotten.

Let's Play Doctor is aptly titled as one can't help but imagine a satellite-propelled ambulance meandering through the galaxies without any haste or emergency whatsoever.

Almost 20 minutes in length, Let's Play Doctor never bores.

It's a playful tribute to taking one's time in enjoying the very now.