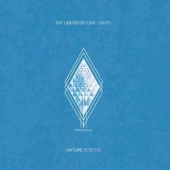 Eat Lights Become Lights
Nature Reserve
Label: Deep Distance
Genre: Post Rock / Avant Rock
The fiftieth release on Deep Distance sees the welcome return of London's kosmische / kraut maestros EAT LIGHTS BECOME LIGHTS with their first studio recordings for three years.
Recorded in Berlin, London, Spain and Portugal, "Nature Reserve" is an incredible return- a beautiful LP, featuring on one hand the bands' trademark heavy motorik workouts alongside a more pastoral set of blissful, deep space lullabies.

Kicking off with the title track, it's instantly recognisable to longterm ELBL devotees that the devastating twinned drummer attack of live shows (only, previously) make their recording debut here- and it's debatable whether the band have ever sounded so powerful than the opener here. To these ears at least, the beauty of this record is that the incendiary power of the freakouts is equally matched and aided to by the most beautiful, serene soundscapes of tracks like "A Distant Point of Light" and "The Great Up Above" which recall "Laser Guided Melodies" era Spiritualized, achieving a killer balance of power and bliss.
The band have shared the stage with the likes of Moon Duo, Sonic Boom, Warm Digits, The Silver Apples, The Early Years not to mention several stints acting as Damo Suzuki's backing band. A great record which should draw in interested newcomers as well as more than pleasing ELBL's older heads, the LP has a one time pressing of 500 on pink vinyl and like both the artist and labels' output previously it is expected to sell out rapidly.