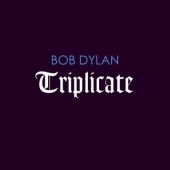 Dylan Bob
Triplicate (Columbia)
Rock / Pop
Availability: Usually dispatched within 5-10 working days.
Other Formats:
BOB DYLAN'S FIRST THREE-DISC ALBUM – TRIPLICATE - SET FOR MARCH 31 RELEASE
COLLECTION TO FEATURE 30 BRAND NEW RECORDINGS OF CLASSIC AMERICAN SONGS
Each disc to be presented in a thematically-arranged 10-song sequence, illuminating compositions from great American songwriters interpreted by Dylan through his artistry
as a vocalist, arranger and bandleader.
Tracklist:
Disc 1 – 'Til the Sun Goes Down
Side 1
1. I Guess I'll Have to Change My Plans
2. September of My Years
3. I Could Have Told You
4. Once Upon a Time
5. Stormy Weather
Side 2
1. This Nearly Was Mine
2. That Old Feeling
3. It Gets Lonely Early
4. My One and Only Love
5. Trade Winds
Disc 2 – Devil Dolls
Side 1
1. Braggin'
2. As Time Goes By
3. Imagination
4. How Deep Is the Ocean
5. PS I Love You
Side 2
1. The Best Is Yet to Come
2. But Beautiful
3. Here's That Rainy Day
4. Where Is the One
5. There's a Flaw in My Flue
Disc 3 – Comin' Home Late
Side 1
1. Day In, Day Out
2. I Couldn't Sleep a Wink Last Night
3. Sentimental Journey
4. Somewhere Along the Way
5. When the World Was Young
Side 2
1. These Foolish Things
2. You Go to My Head
3. Stardust
4. It's Funny to Everyone But Me
5. Why Was I Born?