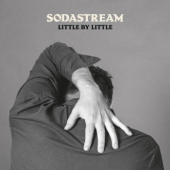 Sodastream
Little By Little
Label: Sodastream Music
Genre: Rock / Pop
2017 will mark 20 years since Karl Smith and Pete Cohen started up their homespun duo, Sodastream. Releasing 4 albums, 4 EPs, and a live record during their original lifespan, Sodastream left an indelible mark on Australian music. Now they've returned with Little by Little, their first album in a decade.
Sodastream always ran deeper than most when it came to emotionally complex storytelling, and their new material thrives just as much on the play between darkness and light. From the start, they won over fans as prominent as radio legend John Peel and music icon Moby, who named their 1998 EP Practical Footwear "Single of the Week" in Melody Maker. Following in the footsteps of kindred spirits The Go-Betweens and The Triffids, the duo carted their respective guitar and upright bass around the globe, making crucial in-roads to Europe, continuing that strong tradition of Antipodean indie music abroad. The pair shared the stage with Pavement, Yo La Tengo, Smog, Low, and The Mountain Goats, while Belle & Sebastian personally invited them to play at the Bowlie Weekender (the first-ever All Tomorrow's Parties festival). At home in Australia Sodastream were even more revered, building on an incredibly loyal fanbase with each of their 4 albums released domestically and internationally via labels such as Rough Trade, Darla, Trifekta, Candle, Drive‐in, Fortuna POP! and Acuarela. During the band's subsequent hibernation, their own legacy helped foster a flourishing Aussie guitar-pop scene that now includes Twerps, Dick Diver, and The Ocean Party – thoughtful, articulate pop bands that understand they don't have to rock out to make an impact.
Following a 6 year break, during which Karl released an acclaimed solo album and both members immersed themselves in their growing families, Sodastream resumed with a humble few shows and the promise of new material. Recorded gradually over three years, Little by Little immediately re-establishes Sodastream's haunting clarity, both lyrically and musically. Never ones to rush things, Sodastream have quietly bided their time since reconvening in 2013, working away at an album that could be their best yet. That's not hyperbole – Little by Little honours Karl and Pete's profoundly nuanced discography even as it stretches out into masterful new terrain.