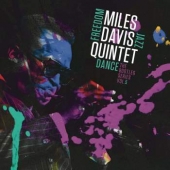 Davis Miles Quintet
Freedom Jazz Dance: The Bootleg Series, Vol. 5 (Legacy)
Jazz / Avant Garde
LP x3 €22.99
Sorry, currently out of stock.
A 3LP collection chronicling Miles' musical evolution in the studio from 1966-1968 working with his "second great quintet," the latest edition in Columbia/Legacy's acclaimed Miles Davis Bootleg Series provides an unprecedented look into the artist's creative process, drawing on full session reels including all rehearsals, partial and alternate takes, studio conversation and more.
Celebrating the 50th anniversary of Miles Smiles, the groundbreaking second studio album from the Miles Davis Quintet--Miles Davis (trumpet), Wayne Shorter (tenor saxophone), Herbie Hancock (piano), Ron Carter (bass) and Tony Williams (drums)--this definitive new collection includes the master takes of performances which would eventually appear on the Miles Smiles (1967), Nefertiti (1968) and Water Babies (1976) albums alongside more than two hours worth of previously unreleased studio recordings from original sessions produced by Teo Macero (with the exception of "Fall," produced by Howard A. Roberts).