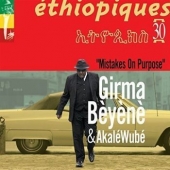 Beyene Girma & Wub Akale
Ethiopiques 30: Mistakes On Purpose
Label: Heavenly Sweetness
Genre: World Music
Availability
LP x2 €23.99

Out of Stock
Girma Bèyènè is a true legend when it comes to Ethiopian music. After an exile to the United States and a radio silence that lasted 25 years, he jubilantly accepted the invitation from the French group Akalé Wubé to return to the spotlight and perform once more.
The comeback took place last September during a memorable concert alongside Akalé Wubé at the Studio de l'Ermitage (Paris 20). Tracks (Arte), Le Monde, Libération relayed this major event, which aroused many strong emotions amongst fans of Ethiopian Music. The adventure could not stop just yet...
Under the direction of Francis Falceto (director of the famous Ethiopiques series) Girma and Akalé Wubé came together and recorded this album in order to immortalize this renaissance.