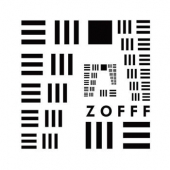 Zofff
Zofff 1
Label: Deep Distance
Genre: Post Rock / Avant Rock
Discordant electronic noise from a B-movie mad scientist's laboratory gives way to a pulsing, fuzz-wreathed bass like a ley line straight to the sun. Teasing guitar glissandos spiral from the echo chamber, diving deep into an infinite sea of sound.
ZOFFF have sailed out in a Saucerful of Secrets, past the Gates of Dawn and kept on going. Suddenly, we're all adrift and very far from home. Enjoy the oceanic ambience while you can: a storm is always brewing, and ZOFFF are a weather system all their own, a true force of nature. Feel the air quality change; hear the first eddying gusts of a coming hurricane dance across the cymbals as a distant trumpet peals out to the darkening skies. We're gaining pace and the waves are pounding on the deck. ZOFFF are about to enter the maelstrom.
ZOFFF's debut album- one epic, 39-minute track- was recorded in a Hove studio on July 8, 2014 and originally released on CD only. Like all of their performances it was entirely improvised. ZOFFF don't do songs as such; they're never the same twice but, like the four postmen of the apocalypse, they always deliver.
ZOFFF are Bic Hayes (guitar) Chris Anderson (bass and organ) Damo Waters (drums) and Al Strachan (synthesiser, electronics and trumpet). Bic was formerly in Dark Star, Levitation and Cardiacs. Chris Anderson is also a member of Crayola Lectern and La Momo.
Al Strachan's many collaborations include Sons of Noel & Adrian, The Mary Hampton Cotillion and Hamilton Yarns. Damo Waters is in CLOWWNS and The Electric Soft Parade, and is a touring member of Field Music.
On this recording they were joined by Jo Spratley (Spratley's Japs, Cardiacs) on vocals; Robert White (Levitation, The Milk & Honey Band) on additional electronics; and Richard Gorbutt, on his astonishing homemade modular synthesiser. Live they are usually accompanied by the swirling visual grooviness of the 'Innerstrings Lightshow', whose old school slides and projections have made them scene-setters of choice at Liverpool Psych Fest for several years running.
ZOFFF continue to play live around the south coast of England and beyond, and in 2016 were one of the highlights of Kozfest, the UK's premier spacerock festival, playing alongside the likes of Gong, Hawklords and Mugstar. In 2017 they will return to Kozfest and will be appearing at a number of other key psych / space rock festivals alongside other manifestations.
Like the post-shoegaze Hawkwind you can dance to, like Can in a can- ZOFFF are the concentrated essence of over 52 varieties of psychedelic space music. If most nu-psych leaves you feeling about as fizzy as a handful of junior aspirin, then rest assured, ZOFFF are the real thing: Owsley-grade freak rock guaranteed to not only float your boat but send it flying headlong to the stars.
The LP is released by the UK's premier kraut / kosmische flavoured label of choice, Deep Distance (Cosmic Ground, Sula Bassana, Panabrite, Colin Potter, JD Emmanuel, Expo 70 and Cavern of Anti-Matter etc…) on white wax with insert in a one time pressing only.