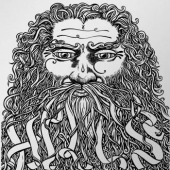 Hills
Hills (Cardinal Fuzz)
Rock / Pop
Availability: In Stock.
Hills formed as a 3-piece in Gothenburg, Sweden 2006, around core members Hanna (drums), Kalle (bass, guitar, organ) and Pelle (guitar) with an aim of creating music that was built on the groove, sound and rhythm and feeling heavily dependent on improvisation that would elevate the listener into a meditative space and feeling that didn't require words to explain it. Since then Hills have signed with the international renowned Rocket Recordings Label (who released Frid to widespread acclaim last year as well as repressing Master Sleeps.)
This S/T LP Originally released in 2009 on Hills own Intergalactic Tactics label (as the band felt there was not a big market for experimental psych/kraut tinged music back in 09) and recorded quite spontaneously in a professional recording studio based around some loose song structures and pieces that Hills had been playing live and felt the time was right to get them recorded down on tape. Here Hills have managed to conjure up the spirit of their Krautrock forbearers as crystalline guitars, driving metronomic drums, pulsing basslines and a heavenly flute shimmer through these embryonic recordings and hypnotic jams. Influenced by everything from the early experimentation of John Coltrane via the repetitiveness of Velvet Underground, Swedish Rock/Folk music (like TGS, Harvester, Arbete & Fritid) Krautrock / Psych in general and the grimness of early black/ death metal bands such as Hellhammer and punk. Hills ethos is to try to keep it honest, analog and raw in the very best way they can.
This release has been remastered for this 2016 repressing and comes with the original artwork (by Marcus Ivarsson) printed on a Sliver Laminated Sleeve.