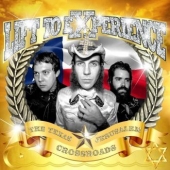 Lift To Experience
The Texas - Jerusalem Crossroads - Reissue (Mute)
Rock / Pop
Availability: In Stock.
The much-anticipated definitive release of Lift To Experience's seminal double concept album, The Texas-Jerusalem Crossroads, mixed as God intended.

The Texas-Jerusalem Crossroads, released by Mute on February 2017 is a brand new mix of the classic album, overseen by the band and engineer Matt Pence and features rejuvenated album artwork (an homage to the Texas-based graphics design studio Pen & Pixel famed for their 90's Southern gangsta rap album covers).