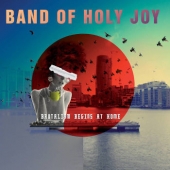 Band Of Holy Joy
Brutalism Begins At Home (Tiny Global Productions)
Rock / Pop
10" €12.99
Sorry, currently out of stock.
Forever changing, consistently unique, yet always somehow the same, The Band Of Holy Joy began life as a collective of gutter chansonniers using junk shop instruments to propagate a brute, romantic and madly literate form of dispossessed urban folk music. They dallied with the finest practitioners of a then-burgeoning post-punk scene, appearing on compilations alongside a crew as diverse as Dead Can Dance, Current 93, Virginia Astley, Nurse With Wound, Sonic Youth, Cocteau Twins - even Napalm Death! Too hard to pin down to a definable style or scene, success eluded them. A series of records for the tiny Flim Flam label showed a sudden spiral into songcraft, with lyrics as mesmerising as those of Microdisney or The Go-Betweens, though filtered through a cabaret sensibility more in tune with tragic street scenes and bitter life experiences than romance and sarcasm. Success did beckon with a much touted signing to Rough Trade and and a heavy promotional push . . . only to see the label collapse the same week as what would have been their breakthrough album was released. Since then, the band have scaled a few heights, fallen down in a gutter or two, broken up, glued themselves together, toured the world, released a fair few albums and explored other media by presenting audio visual song plays and site-specific pieces as well as perpetrating Bad Punk, a Friday night radio show of looped soundscapes on Resonance FM. These days, the junk shop instruments of old are long gone, and guitars, sixties organ and visuals very much to the fore. But the band continues to write about the same outsider concerns with the same measure of spirit and care, and man, they still put on a show! This new EP (yes, with download card!) precedes Tiny Global Productions' Spring, 2017 release of a 3xCD boxed set compiling the band's pre-Rough Trade Flim Flam recordings.
Limited to 500 copies only.