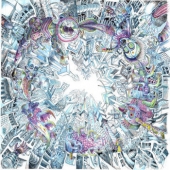 Shackleton
Devotional Songs
Label: Honest Jons
Genre: Electronica / Ambient / Experimental
Availability
LP x2 €24.99

Out of Stock
Shackleton's most expansive, ecstatic and hallucinatory music to date. Four longform pieces developing the free-flowing compositional aesthetic of his recent Deliverance series and Powerplant performances: fiery rhythmic-melodic turbulence channeling Congotronics way to the east — with an aura of restrained mania reminiscent of the feral pomp and gallows humour of Coil's moon-musick phase — all earthed by dubwise bass.
The pairing with Tomasini — whose history spans experimental theatre, cabaret and collaborations with Julia Kent and David Tibet, among many others — is a match made in heaven. With his four-octave voice swooping from deep growl to piercing falsetto, Tomasini's presence both heightens the taste for the theatrical that's always been integral to Shackleton's music, and makes explicit the latter's kinship to the occult energies of the UK's post-industrial underground.
As the title suggests, these are shadowy songs rich with allusions to bodily ritual and psychic exploration, with Tomasini's lyrics framed by luminous whirls of hand-struck drums and synthetic gamelan, bells and tumbling organ melodies. You Are The One escalates from delicate choral chant to full-bore psychedelic organ freakout; Rinse Out All Contaminants is a slow incantation, to purge all negative thoughts; the melodies of Father You Have Left Me are smudged like early Steve Reich, then burned out by snarling subs; and the magnificent Twelve Shared Addictions balances elliptical melodies like spinning plates, gradually unfurling into a breakneck storm of voice and hammered keys.
A remarkable collaboration that also, crucially, hints towards new emerging futures in the work of one of this decade's pioneers in electronic sound and rhythm.