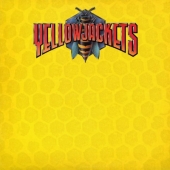 Yellowjackets
Yellowjackets
Label: Music On Vinyl
Genre: Jazz / Avant Garde
Availability
LP 180gr Audiophile €20.99

In Stock
Yellowjackets is the self-titled debut album by the American Jazz group Yellowjackets, released in 1981. The album features Robben Ford on guitar, and reached a peak position of number sixteen on the Billboard Jazz Albums chart.
Yellowjackets is a fun album. The Yellowjackets made a splash with their first record, an accessible mixture of Jazz, Rock, and Funk.
Ricky Lawson provides Rock beats to the material, Jimmy Haslip's bass work is as Funk as it is Jazzy. There are some nice, chunky grooves that give the album a sense of substance, a wistful track in "It's Almost Gone", and a neat melody tucked into "Priscilla", all of which contribute to the album's charm.