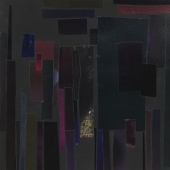 Gately Katie
Color (Tri Angle)
Electronica / Ambient / Experimental
LP €22.99
Sorry, currently out of stock.
If the history of music has taught us anything, it's that sometimes the best musical moments are truly serendipitous - happy accidents that have more to do with chance or luck or simply making the most out of whatever you happen to have access to. In the case of LA-based electronic artist Katie Gately, the impulse to make music was born out of a profound curiosity and a deeply DIY aesthetic. Even though she is now set to release her full-length debut - the sprawling 'Color' - Gately still gets the jitters when speaking about her beautiful, densely layered music. "I still get so freaked out talking about my music," she says. "It's like, 'Oh no, people think I know what I'm doing!' It's still so scary to me. The record is done and I still feel like I don't know!"
Gately's introduction to music making was born out of a fascination with sounds, which led to a preoccupation with making field recordings of her surroundings and saving them. "With no plan or direction and no understanding of what I was doing, I was like, 'Well, I like doing this so I'm just going to record lots of sounds. I'm just going to put them on hard drives and save them,'" she recalls. While studying at USC and working as a sound editor for films, Gately went from engineering and editing sound for films to making her own rudimentary electronic. "I realized that I wanted to do more than just correlate sounds to pictures. I'd like to take the sounds and make them the movie stars of the soundscapes. Those experiments became my songs."
After finding a surprisingly enthusiastic audience after posting her early material on Soundcloud, Gately eventually released a cassette only release for Blue Tapes and an EP via Public Information. However, it was the success of 'Pivot' - her 2014 contribution to the FatCat single series - that helped convince her that making songs might be more than just a hobby. "Found sounds are inherently interesting and complicated and flawed," she explains. "I have no authorship over it - a metallic sound or a cool ventilator recording or a weird bird chirping or a sound that one of my cats makes - it's all just weird shit that I haven't really created so much as just captured. It was such a revelation to learn that I could use them and change them and find what's musical about them, but there's no pressure of 'I'm so brilliant. I came up with this sound!' because it's literally something I found. I feel like I'm collaborating with things that already exist in the world and I'm almost working to make those things sound as beautiful as I can."
On 'Color' Gately has built seven maximalist electronic compositions based on the idea that more is more. Meticulously composed from layers of found sounds and manipulations of her own voice, 'Color' pulses, lurches and throbs with the excitement of a million barely-controlled ideas and the energy of a sped up cartoon. The cacophony of sounds could easily slide into chaos were it not for Gately's uncanny knack for melody. Even at their wildest, songs like 'Tuck', 'Sire' and 'Frisk' all boast some sort of accessible emotional core - be it an earworm melody or the kind of winding, circular beat that becomes almost impossible not to hum or sing or feel.
As she explains it, the line at which the competing layers of textures and sounds become too much - or when the song is actually finished - is difficult to define. "It's always about how much can I add before it just sounds too crazy. What's the most obnoxious thing I can make the song do? How can I have it be just forty-nine percent obnoxious and fifty-one percent fun? I think there is a pretty consistent thread of wanting to honor both things - wanting to honor the aggressive, not pretty sounds, but then also singing and always including a melody to balance that."
Despite the remarkably complicated nature of Gately production techniques or the meticulous nature in which her songs are stitched together, she insists that it's her general naiveté about what she's doing ("I have no legitimate background in music" she says, "I never played an instrument when I was a kid and I'm only now taking my first music theory class.") and the self-derived nature of her process that keeps things interesting, not to mention the lure of new sounds out in the world waiting to be discovered. "When I leave LA my main priority is to always bring my recorder," she says. "But cool sounds are always all around you. Sometimes friends will be like, 'Oh, I have this chair and it makes this weird sound. I think you'd like it!' They know that I won't be able to resist coming over to record it."