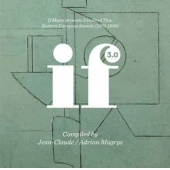 Various Artists
If Music Presents You Need This: Eastern European Sounds (1970-1986)
Label: If / Ninja Tune
Genre: Jazz / Avant Garde
Availability
LP €9.99 Nice Price

In Stock
• Compiled by If Music's figurehead Jean-Claude and Adrian Magrys for Record Store Day 2016, the six tracks span infectious Polish disco grooves (Wojciech Karolak and Andrzej Korzynski), bustling break-heavy jazz from the Polski Jazz Ensemble and the Russian born "Prince Igor" Yahilevich, heartwarming spiritual jazz stylings from Hungary's Binder Quintet featuring John Tchicai and Alojz Bouda's awesome oddball Slovakian synth banger 'Random' from 1980.
• 180g black 12" vinyl in gatefold sleeve.
• Sleevenotes by Jean-Claude and Adrian Magrys.
• Artwork by Guglielmo Willy Tavernaro (1909- 1989). Sleeve design by Ali Augur.