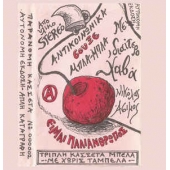 Asimos Nikolas
Eimai Palianthrwpos
Label: B-otherside
Genre: Rock / Pop
Availability
LP + CD €18.99

Out of Stock
Black vinyl.
H Β-οtherSide records παρουσιάζει την πλήρη δισκογραφία του Νικόλα Άσιμου , η οποία είχε εκδοθεί από τον ίδιο σε 8 «παράνομες» κασέτες, οι οποίες θα κυκλοφορήσουν σε άλμπουμ βινυλίου με το αυθεντικό εικαστικό, τα οποία θα περιέχουν και cd. Την ηχητική επεξεργασία και το mastering από τις αυθεντικές πομπίνες ανέλαβε ο Γιάννης Κύρης, αναδεικνύοντας τον ήχο σε πολύ υψηλό επίπεδο. H κάθε έκδοση θα γίνει σε 400 αριθμημένες κόπιες (200 χρωματιστές και 200 μαύρες), οι οποίες θα περιέχουν ένθετο με τους στίχους των τραγουδιών και με την κυκλοφορία των πρώτων 4 άλμπουμ, θα υπάρχουν και 50 κασετίνες με έξτρα υλικό.
Το δεύτερο άλμπουμ που θα κυκλοφορήσει είναι το «Είμαι παλιάνθρωπος», η πρώτη από την 3πλη κασετοκυκλοφορία με τίτλο « Τριπλή κασέτα μπέλα με χωρίς ταμπέλα», η οποία αρχικά κυκλοφόρησε το 1979. Σε αυτό το άλμπουμ περιέχονται για πρώτη φορά τραγούδια-σταθμοί από την δισκογραφία του Νικόλα Άσιμου , όπως το Ουλαλούμ (σε ποίηση Γιάννη Σκαρίμπα) και το πασίγνωστο Γιουσουρούμ.

https://www.youtube.com/watch?v=CbydmjQE4mQ
https://www.youtube.com/watch?v=50rnFQkrAlg

B-otherSide records presents the complete discography of Nicolas Asimos, which was released by himself in 8 "illegal" cassettes, that will be released on vinyl album with original artwork and will contain a cd. The audio editing and mastering of the original bobbins undertook John Kiris, highlighting the sound to a very high level. Each version will be issued in 400 numbered copies (200 colored and 200 black), which will contain an insert with the lyrics of the songs and with the release of the first four albums, there will be 50 caskets with extra material.
The second album to be released is "Eimai Palianthropos" (I'm a bad man) the first of the triple cassette release entitled "Triple cassette mpella with no label", which was originally released in 1979. This album contains, for the very first time, hit songs from Nikolas Asimos discography, like Oulaloum (in Giannis Skarimpas poetry) and the famous Giousouroum (flea market).