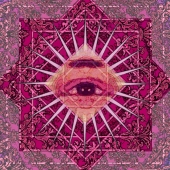 She Tames Chaos
Oh Fair Father Where Art Thou?
Label: God
Genre: Rock / Pop
Recorded live at
Ζero Gravity studios by Dimitris Dimitriades
Βigfoot studios by Alex Kyrlis
and Βelow studios by Costis Raisis
all studio locations in Αthens,Γreece.
Additional home recordings by Robert Sin
Additional instruments by Robert Sin and
Evi Hassapides Watson

All songs by Evi Hassapides Watson except
''Return To Forever'' by Alfonso Migdanis and
Evi Hassapides Watson and ''The Narcissist''
by Robert Sin and Evi Hassapides Watson

Produced Mixed and Edited
by Chaos herself
Mrs Evi Hassapides Watson

Assistant Mixer
Assistant to Mrs Hassapides
Robert Sin

Mastering by Robert Sin

Artwork by Chaos herself

Inlay painting
''Saturn devouring his child''
by master pioneer painter
Giulia Lama 1681 - 1747
" Όμως φαίνεται πως τώρα η Εύη Χασαπίδου/Watson φτάνει στην ωριμότητά της και χωρίς ποτέ να χάνει το μουσικό της προσανατολισμό, που περιλαμβάνει υλικά από το progressive, την ψυχεδέλεια και όλο το ροκ μεγαλείο του παρελθόντος, δημιουργεί με το καινούργιο της σχήμα She Tames Chaos ένα στέρεο, πειστικό, πολυδιάστατο ροκ άλμπουμ με τίτλο «Oh Fair Father Where Art Thou?» και με την ίδια να βρίσκεται σε εξαιρετική ερμηνευτική φόρμα."

Μάκης Μιλάτος, Athens Voice, 27.10.2016 - ΤΕΥΧΟΣ 588

"Evi Hassapides Watson reaches her maturity and without ever losing her musical direction which consists of elements of Progressive, Psychedelia and all the Glory of Rock music past, she and her new band create a solid, convincing, multidimensional album titled "Oh fair father where art thou?" while she herslf is in in excellent Expressive and Vocal shape."

Makis Milatos, Athens Voice, Oct 27,2016 - Issue 588
-.-.-.-.-.-.-.-.-.-.-.-

«Στο σημερινό Μαγικό Μείγμα, συνέντευξη της Εύης για ένα από τα καλύτερα άλμπουμ του 2016.»

Σπύρος Χυτήρης, Μαγικό Μείγμα, ΕΡΑ Κέρκυρας, 26.10.2016

"In today's Magic Mixture an interview with Evi Hassapides Watson about one of the best albums of 2016"

Spyros Hytiris, Magic Mixture, Gree Public Radio Corfu, October 26th, 2016.
-.-.-.-.-.-.-.-.-.-.-.-.-

" η Εύη Χασαπίδου-Watson όχι μόνο δεν έχει ξεχάσει να δημιουργεί μουσική, αλλά το αντίθετο. Κυκλοφορεί με τη μπάντα της ίσως το πιο πλήρες και άρτια δομημένο άλμπουμ της ως τώρα μουσικής της πορείας, η οποία δεν είναι καθόλου μικρή ούτε ανάξια λόγου.
Σήμερα, μαζί με τους She Tames Chaos, με τις συνθέσεις και τους στίχους της, η Εύη προσπαθεί να εξημερώσει το χάος που διέπει τη κουλτούρα των συμπατριωτών της κυκλοφορώντας ένα δίσκο με επτά τραγούδια, τα οποία μας ταξιδεύουν αρμονικά από τη ψυχεδέλεια στη «βρώμικη» soul όπως τη γνωρίσαμε μέσα από την απλότητα του trip-hop, με λεπτές folk και dream rock αναφορές για να καταλήξουν στο progressive, με μία ισορροπημένη αρμονία και με τη φωνή της να είναι πραγματικά πιο ώριμη ερμηνευτικά από ποτέ."

Αντώνης Ζήβας, Merlin's Music Box, 2.11.2016

"Evi Hassapides Watson has done anything but forgotten how to create music - quite the contrary. She and her band release the most complete and finely structured album of her career which is neither small or unworthy.of attention and respect.
As you are reading these lines, with her music and lyrics and her band Watson is trying to tame the chaos that governs Greek culture with an album that smoothly takes us from Psychedelia to "Dirty Soul" as we know it from trip-hop, and Dream Rock, ending up on the shores of Progressive, all in balance and harmony, with her voice truly at its best ever."

Antonis Zivas, Merlin;s Music Box, November 11th, 2016.