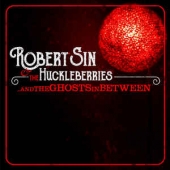 Robert Sin And The Huckleberries
... And The Ghosts In Between
Label: God
Genre: Rock / Pop
Α great new Americana record from Greece,following the footsteps of Neil Young and Danny and Dusty with a spacey twist.
The Huckleberries float gently between Americana, Country-Folk and a powerful emotional soundscape reminiscent of Psychedelia and all the Classic qualities of a solid musical
upbringing.Their music is a canvas of charismatic reconstructions of the band's member's schooling: Bob Dylan, Neil Young, Jack White, Bright Eyes, Ryan Adams, Richmond Fontaine, Jason Molina, Led Zeppelin and all the legends of decades past.
The Huckleberries are Robert Sin on the guitar and lead Vocals,Stelios Chabipis on the second guitar and Dimitris Bouroussas on the drums,
both ex-members of the legendary 80's band Libido Blume,"Uncle" Theo on the keys and Evi Hassapides Watson (No Man's Land, Echo Tattoo, She Tames Chaos) on backing vocals and the bass.
The Huckleberries are a utopian oasis for the pure at heart.
credits
released April 14, 2016

Robert Sin - Vocals, Acoustic and Electric Guitars, Synth, Piano
Stelios Habipis (Libido Blume)- Electric Guitars
Thodoris Karampalis - Keys
Evi Hassapides Watson (No Man's Land, Echo Tattoo)- Bass Guitar, Vocals
Dimitris Bouroussas (Libido Blume) - Drums