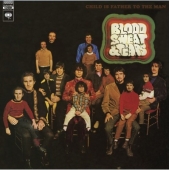 Blood Sweat & Tears
Child Is Father To The Man (Music On Vinyl)
60s / 70s Rock / Pop / Progressive / Kraut
Availability: In Stock.
Child Is Father to the Man is the debut album by Blood, Sweat & Tears. Originally released in February 1968, the album cover was considered quite innovative showing the band members sitting and standing with child-sized versions of themselves.
Blood, Sweat & Tears was originally formed by Al Kooper. Members included at time of recording were Randy Brecker on trumpet, Bobby Colomby on drums, Steve Katz on guitar and Jim Fielder on bass amongst others. Child Is Father to the Man reached number 47 on Billboard's pop album chart and is considered an album which draws in folk, blues and jazz elements fusing with rock.