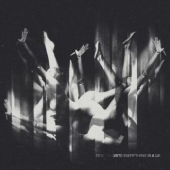 Dead Rabbits
Everything Is A Lie (Fuzz Club)
Rock / Pop
Availability: In Stock.
Everything Is a Lie follows on from their debut and yet again reaffirms the band as one of the most exciting and refreshing outfits in the wave of current shoegaze bands. It's the mesmerising concoction of shoegaze, neo-psych and post-punk, delivered with a lethargic but hopeful restraint that is pinning the band at the top of the UKs fruitful 'psych-gaze' scene and Everything Is a Lie is certain to keep them sitting there comfortable for a while.
'Everything Is a Lie' could be plucked straight out of 1989, deeply indebted to Spacemen 3, Loop and My Bloody Valentine, it feels languorous and apathetic at times but frontman Thomas's fragile yet hopeful croons drive it with an insatiable vigour from start to finish. Washed-out fuzz-encrusted guitars are underpinned by whirling bass-lines that Peter Hook would be proud of, if not envious. Hazy synths crash over you whilst thundering percussion locks the album into a deep psychedelic groove, hitting you square in the face like an immersive wall of noise.
The band described this LP as a statement, condemning the current state of the world and addressing the bleak hidden agendas of life, both in a political and personal sense. When asked to describe Everything Is a Lie the band pinned it as "the only honest thing you'll hear in a world full of lies and hate. Imagine The Jesus and Mary Chain sharing a Lou Reed cake with The Brian Jonestown Massacre whilst Spacemen 3 stand and watch."