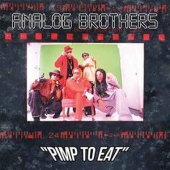 Analog Brothers
Pimp To Eat
Label: Mello
Genre: Hip-Hop
Availability
CD Digi / Cardboard €7.99 Nice Price

In Stock
If The Analog Brothers didn't exist, the weirdest scientist couldn't have invented them. Or perhaps they never existed. Maybe it's possible this was all a demonic 31st century hallucination cooked up by Kool Keith and cyborg alien pimps peddling flesh and white fluff acid.

But how else to explain the ultra-rare, ultra-magnetic artifact left behind: Pimp to Eat. Originally dropping from the skies in 2000, it's being re-released by Mello Music Group, and remains the timeless mind-fuck that it was when it first emerged. It's a laser beamed synthesized hieroglyphic that could sound timeless in any century or sonic dimension.

There are a few clear things amidst the craziness. The centerpiece of the record is Pimp Rex (AKA Rex Roland), the legendary Angeleno hustler, who did production for Body Count and the chorus on Ice-T's "I'm Your Pusher." He enlists his longtime collaborator Ice Oscillator (Ice-T), Keith Korg (Kool Keith), Marc Moog (Marc Live), and Black Silver (Silver Synth). These are the five fly horsemen of the apocalypse, the Analog Brothers delivering digital blows, oscillating sub-tones, and urinating out of windows.