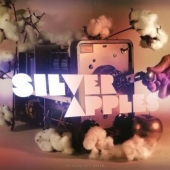 Silver Apples
Clinging To A Dream
Label: Chicken Coop
Genre: Electronica / Ambient / Experimental
Brand new album, the first in 19 years, features 11 new songs and was recorded at the ChickenCoop studios in Fairhope, Alabama, USA and was produced by Graham Sutton in London, UK. These new songs carry on the tradition begun in 1967 by Silver Apples of merging pure, raw electronic sounds with melodic poetic content and represents 40 years of polishing and refining this experiment.
The result, as usual, is surprisingly original. ChickenCoop Recordings is Silver Apples own imprint, the same name given to the backyard studio in Alabama by Simeon Coxe, founder and surviving member of Silver Apples. The new album release on ChickenCoop, is part of a larger worldwide deal with Cargo Records, which sees back catalogue titles, 'The Garden', 'Beacon' and 'Decatur' re-issued on all formats, with Beacon and Decatur for the first time ever available on vinyl and digital download.
The Garden was the once legendary, 'lost', third album that luckily turned up in 1998 during the reunion of Simeon and Danny Taylor, who at the time hadn't seen each other for 27 years! The story appears on the sleeve artwork. First released on the now defunct, 'Whirlybird', label in '98 (CD only) then on now defunct Canadian label, 'Bully Records', in 2006. Beacon was, the come back album in 1997 and was recorded with Steve Albini. It's what Simeon now refers to as the 'trio days', as Simeon initially recruited Xian Hawkins (keyboards) and Michael Lerner (drums) for the reactivation of Silver Apples. Decatur was also released in 1998 on the back of Beacon and is, as the sleeve notes say, 'A voyage of pure exploration beyond the broad established horizons of electronic music. It is an adventure into the perceptions of an unparallel universe all it's own'.
Indies only, coloured vinyl.