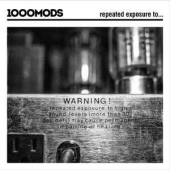 1000mods
Repeated Exposure To ... (Ouga Booga And The Mighty Oug Recordings)
Stoner / Punk / Post Metal / Industrial Rock
CD €11.99
Sorry, currently out of stock.
"Repeated exposure to..." is the brand new full length album by Greek heavy rock pioneers 1000mods.
Having toured extensively in Europe, this heavy rock rollercoaster from Corinth, succeeds once again in
delivering inspirational songwriting, performed with big amps, downtuned guitars, groovier-than-life drum
parts and some of their best vocals to date.