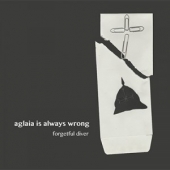 Aglaia Is Always Wrong
Forgetful Diver
Label: More Mars
Genre: Electronica / Ambient / Experimental
Availability
CDR Digi / Cardboard €4.99

In Stock
"Aglaia Is Always Wrong" is a one-man project, formed in 2009 in the suburbs of Αthens, Greece. Its sound takes us to the fleeting borderline between noise and industrial aesthetics, staying true to its idiosyncratic style, that was formed after a long research in the compositional process of music-making, experimentation with sampling, field recordings and tape manipulation.
"Forgetful Diver" is the first full-length album by "Aglaia Is Always Wrong" and is representative of its enigmatic music. On these three compositions, "Aglaia is always wrong" managed to combine a potent combination of various pre-recorded sounds and loops that gradually become more ferocious and noisy, revealing to us an urban industrialised soundscape that is filtered through a cinematic point of view.
The first and the last track ("Tea And Blood" and "Dfalter") were recorded in 2015 and they are its more recent examples of experimentation. The second track ("I Mavri Laterna" translates as "The black lantern") was produced in 2012 and is one of its earlier recordings, that is very characteristic because of the vocal sample, taken from the "Chetyre" movie.
"Forgetful Diver" release is a limited edition of 60 copies.