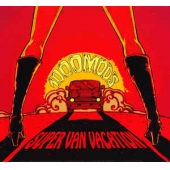 1000mods
Super Van Vacation
Label: Ouga Booga And The Mighty Oug Recordings
Genre: Stoner / Punk / Post Metal / Industrial Rock
Availability
LP x2 €23.99

Out of Stock
Other Formats
2011 debut full-length release from Korinthian stoners repressed finally! One hour of truly heavy psychedelic stoner rock.


Some of the best down tuned psychedelic stoner rock you'll hear without listening to Kyuss.
-HEAVYPLANET.NET

Produced by the legendary Billy Anderson. Killer artwork by Malleus Rock Art Lab.

Gatefold cover, black double vinyl!