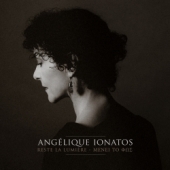 Ionatos Angelique
Reste La Lumiere ( Menei To Fws )
Label: Ici D' Ailleurs
Genre: World Music
Angelique Ionatos is a peerless Greek guitarist and singer. She returns this autumn with a new album on Ici, d'Ailleurs... which looks like being one of her most complete works.
Angelique Ionatos's has had an unusual career. When she was 15, she left her home country for Belgium and then France where she recorded her first album in French with her brother Photis. The record was an instant critical success, receiving the Académie Charles-Cros Grand Prix, and helped forge her strong relationship with France.
The universe portrayed in Angelique Ionatos's work is inextricably linked with the spheres of poetry and literature. She has often composed songs using texts by recognized authors like Odysseus Elytis, Oscar Wilde or Pablo Neruda. She is also in demand in the world of theatre, particularly as an associated artist from 1989 to 2004 at the Sartrouville theatre, many of whose creations are co-produced by the Theâtre de la Ville in Paris.
In 2014, she finally began composing her new album in Greek which is entirely based on Greek poems and intended as a response to the current situation in her home country, a cry of resistance even. The tension inherent to the record is so powerful and gripping which makes it difficult to describe the sensations derived from listening to it. Angelique's fabulous, striking and precise guitar playing has a lot to do with that but the self-evident beauty of her singing - strongly influenced by the funereal tones of threnody - profoundly touches listeners. This is an album on a razor's edge where euphoria and spleen closely co-exist.
1/ Courage (Κουράγιο) 2/ La route (Ο Δρόμος) 3/ Mes soeurs sorcières (Ω αδελφές μου μάγισσες) 4/ Début du monde (Αρχή τού κόσμου) 5/ Optimisme (et si l'arbre brûle) (Αισιοδοξία (Κι άν τό δέντρο καίγεται)) 6/ Perséphone (Περσεφόνη) 7/ Anges féminins (Θήλεις Αγγελοι) 8/ L'équation de l'amour (Μαζεύω τών ονείρων μου τη φύρα) 9/ Anatolie (Ανατολή) 10/ Habitudes (Συνήθειες) 11/ Aimez vos prochains 12/ Le bateau fou (Τό τρελοβάπορο)