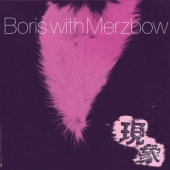 Boris With Merzbow
Gensho (Relapse)
Post Rock / Avant Rock
Availability: Usually dispatched within 5-10 working days.
The BORIS songs are completely new, percussion-less reinventions of classic tracks from the band's storied catalog, while MERZBOW's songs are entirely new compositions. The two sets are intended to be played at the same time at varying volumes so that the listener can experience their own "gensho/phenomenon" every time.
As with every BORIS WITH MERZBOW release, the only thing to expect is the unexpected, lending the album near-infinite potential for aural discovery and encouraging direct interactivity with the listener rarely found in such unconventional music. An untouchable paroxysm of noisy, droning experimentation!