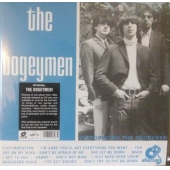 Bogeymen
Introducing The Bogeymen
Label: Altercat
Genre: Rock / Pop
Availability
LP + MP3 COUPON €20.99

In Stock
Reissue of cult album from 1994, originally released on CD only, now
available on vinyl for the first time. 12 slices of raw garage and
Rhythm&Blues, totally english-sounding — these frenchmen knew what
they were doing!! A constant kick of adrenaline since my teenage years. Why
this was only issued on CD, we just can't explain. Up there with the Cynics,
the Chesterfield Kings, the Creeps, Fuzztones and all those that built up the
'60s revival scene back in the day. We're pleased to bring you the long
overdue vinyl version of the album, 23 years later. We've had the audio
professionally restored, correcting whatever catastrophe happened during
the original mix, which means you can finally listen to the bass for the first
time ever. Limited to 600 copies, professionally restored audio, and artwork
faithful to the original CD issue, with informative insert with the story of the
band and some rare pictures. Includes MP3 Download Card.