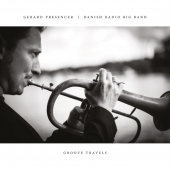 Presencer Gerard & Danish Radio Big Band
Groove Travels
Label: Edition Records
Genre: Jazz / Avant Garde
Availability
LP + MP3 COUPON €24.99

In Stock
Other Formats
Groove Travels is the highly anticipated new album from British trumpeter, arranger and composer Gerard Presencer, featuring the Danish Radio Big Band.

Groove Travels is set to be a defining album both for Gerard and for new Big Band conceptions. This new release is without doubt his most ambitious and well-executed solo recording to date and will happily stand alongside the leading voices in contemporary big band music.

The idea for this album first took root when Gerard moved to Copenhagen to take a trumpet seat in the band. As Gerard explains: 'It's taken five or six years for me to get this album together which is great for a project like this, because I got to know everybody, we play together all the time, so the tunes that I've chosen are specifically chosen for the musicians that are playing them'.

Over the past 25 years Gerard Presencer has carved out a formidable reputation as one of the most respected trumpeters on the European scene. He exploded onto the international scene, aged 18, when US3 asked him to play the solo part on Blue Note's Cantaloupe Island (re-imagined as Cantaloop Flip-Fantasia), that became one of the biggest selling jazz records of the 1990s. Since then, he has performed with a who's who of international jazz artists, and has developed a career as an educator, arranger and composer.

Gerard has also been an essential member of Charlie Watts' various jazz groups over the last 25 years, touring the world and releasing several albums in various groups with the jazz-loving Stone!

Gerard continues to push himself and his instrument, moving outside his comfort zone in order to develop as a player and writer.