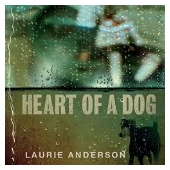 Anderson Laurie
Heart Of A Dog
Label: Nonesuch
Genre: Soundtrack
Availability
CD Digi / Cardboard €15.49

Dispatched within 5-10 working days
Anderson was recently commissioned by the European TV network Arte to create a feature film – her first in 30 years. Her response was a personal essay entitled Heart of a Dog, a work encompassing joy and heartbreak and remembering and forgetting, at the heart of which is a lament for her late beloved dog Lolabelle. The Nonesuch album is the full audio recording of the film, including all music and spoken text.

Heart of a Dog has been shown at the Telluride, Venice, Toronto, San Sebastian, New York and London Film Festivals to critical praise, with the New York Times calling it a 'philosophically astute, emotionally charged meditation on death, love, art and dogs,' and New York magazine saying it is 'one of the most moving and provocative films you'll see this year.'

In addition to Anderson's inimitably thoughtful narration, Heart of a Dog includes musical excerpts from several of her pieces – 'The Lake' and 'Flow' from Homeland (2010), 'Beautiful Pea Green Boat' from Bright Red (1994), 'Rhumba Club' from Life on a String (2001), excerpts from Landfall (2011) with Kronos Quartet – as well as the film's closing song 'Turning Time Around', written and performed by Anderson's late husband, Lou Reed.